Florida Destination Weddings
COCOA BEACH WEDDINGS
SURFSIDE WEDDING CHAPEL
OCEAN SIDE WEDDING VENUE COCOA BEACH
BOUDOIR BRIDAL ROOM
​GROOM CAVE
​
Your Florida Wedding Group of Professionals Providing Simply Romantic Weddings ! Call us today for your free quote 407-970-7314

WEDDING AND FAMILY BEACH PORTRAITURE SPECIALIST
And all you need for your BEACHSIDE I DO'S!

email us: DestinationWeddingsinFlorida@gmail.com
We have a Surfside Wedding Chapel!
Port of call weddings!
Create your own Wedding or Vow Renewal Package
You delight us and inspire us with your love. Everyone loves being in love.
Let's express it with what reflects you and your authentic selves together on your wedding day.
You are the artist of your own ceremony. Choose the services you want here complete with images,
descriptions and investments into your dream wedding here. Please call us @407~970~7314 or email us and
we will prepare a easy to understand and customized proposal for you.
EASY BREEZY!
ala-carte items here with descriptions, images and prices and listed by each category of service.

Please scroll all the way down to see all of our services!

On this page and in the following order:
Officiant services
Photography
Video
Decorations
Flowers
Beach side mini-reception
Entertainment


Officiant and Ceremony options and services
Officiant only services - At our location we are proud to offer a back up for weather or just if you prefer a pretty indoor place for your ceremony. Surfside Wedding Chapel is only 150 steps to one of the most picture perfect beach accesses called Slater Way (3rd Street North and A1A) we are located in a quite section of the City of Cocoa Beach.
$175 no frills wedding using our beach access or our Chapel or surrounding beach (Monday - Thursdays)
$225 no frills wedding using our beach access or surrounding beach (Friday- Sunday)
We will travel outside of the Cocoa Beach and surrounding beaches, request a quote. We've worked all around the beautiful state.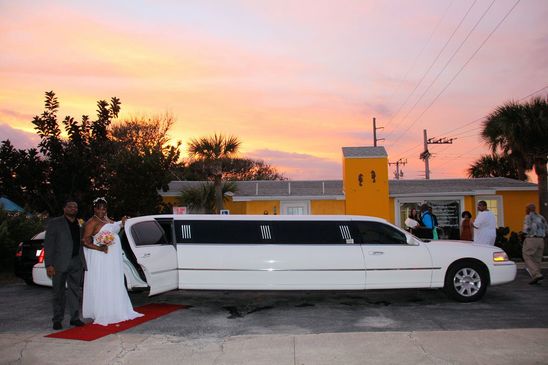 Officiant Services also include:
*Choice of ceremonies, vows, poems and verses from our library.
*Certification and return of your license to the appropriate recording office.
*Unlimited emails and phone calls
*Day of coordination of events and vendors.
*Phone rehearsal.
*Custom keepsake ceremony
*Marriage Certificate.



Other Officiating services:
$175 Rehearsal day prior on location
$ 50
Day of ceremony rehearsal/earlier in the day
(if you book a package with us and you decide you want to bring your own officiant, no credit will be given since this price also includes our planning services and we will be still there to help with coordinating, so this is not an exchangeable service, If you create your own package and use your own officiant, you will get ONLY a $75 fee for the officiant services since the unlimited emails, calls, and phone rehearsal as well as onsite coordination is part of this fee)

---
---
Sand unity ceremony $50

Sand Unity Ceremony includes your supplies, and a decorated table and of course your one of a kind keepsake heart shaped bottle. This is your wedding day is all about. Just the two of you can be involved, or you and your children, or even include your parents, or grandparents. The way it works is during the ceremony, after your vows and ring exchange, you will be given your own container of sand to use to pour the different colors of sand into the common container, representing your new family. The sand represents your beliefs and traditions as well as all you were, all you are and all you will ever be, up until this moment. A visual reminder of your union made your wedding day.

---
---
wishing shell ceremony $50 for up to 20 people
$75 for up to 50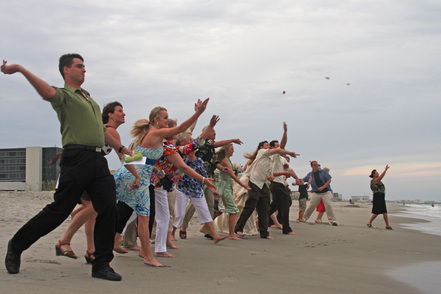 includes all the shells you need for your group of up to 30, or 60 with some to keep. (Larger quantities are available) The way this typically works is right after the ceremony, we will direct everyone down to the water's edge, where everyone will be given each a shell with your names and wedding date on it. Your officiant will explain to them that they are to make a wish for you, and not to tell you their wish for you until your first anniversary. The couple makes a wish for each other. Then on cue, everyone will toss their shells into the ocean, where they will carry your wishes out to sea. Sooner or later, someone else will find your shell and share in your good fortune. Paying it forward, so to speak.
---
---
our specialty...
Photography
see slideshow portfolio here, note all images throughout this site are ours too!

---
important Photography notes:

* When you hire us to do your photography, you are welcome to have family and friends take all the photos they like, however please advise them to respect that we are the HIRED photographers and we have precedence over the flow of photos/group shots and romantics and we have a proven routine to capture as many images as we can in the amount of time we have, so if they will allow us do our job, we will get all your images. Also, for your own good, they should not park themselves in one place (especially not behind the ceremony, or in the middle of the aisle way for they will be in your shots)

* When you hire or bring your own Photographer and do not hire us for your Photography, please be advised while we will be happy to work with them on the beach, or out side of our building, they WILL NOT be permitted to do ANY photography in our Bridal Room/studio or in our Chapel since these props were designed by us for OUR use only. The ONLY exception is if we resort to the Chapel due to weather. Thank you!

Authentic Photography Captured by
Sherri Salisbury
(see facebook page)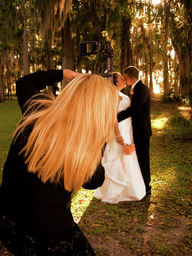 The three photo options we now offer is our fabulous wedding photo shoot, but different options of how you receive your images.
Make visible what, without you , might perhaps have never been seen.....
--
Robert Bresson
*
a French film director
Cocoa Beach Weddings PHOTO package:
Begins upon arrival to ceremony location and I shoot with a photojournalistic style and a
studious
discernment for capturing special moments. I try my best not to intrude on your celebration as I try to cover it from every possible angle.
We traditionally capture the arrival, and discretely shoot the ceremony and after the ceremony combine the single, group and portrait formals of the bride and groom, wedding party, and respective families. Of course you get Sherri's signature romantic couple shots like you see throughout the website. I have a system that works and covers a lot in a short time.
There is no limit to the amount of images you will have.

We like to plan for an hour to an hour a half prior to sunset to start photos. This is also the cooler part of the day as well as less people around as well as the lighting for photography.
Our most popular "Cocoa Beach Weddings photo package" includes
unlimited images
and professional basic editing, color correction and composition as needed. Removal of any undesired people or objects.
(If you didn't use sunscreen and have severe sunburn or if you have other blemishes etc....A few of the most important images will be corrected, but going through all of the images will be an additional fee.)
So be sure on the days before your wedding to use sunscreen, regularly apply it and spread it evenly.
Our Favored photo package also comes with a
high resolution master USB card (size of a business card) and
a
copyright release
as well as download to an online password protected gallery or upload to favorite social media.
"Cocoa Beach Weddings photo package" $450
2 new options:

Cocoa Beach Weddings "Elopement photo package" $375 (bride and groom and or bride and groom and their children) Edited and processed and packaged/gallery or upload to social media of choice!

Cocoa Beach Weddings "Edit my own photo package" $275 This budget minded option works for those of you who like to edit your own images and or on a budget. You will get the unedited USB card/upon a copy made of it right away and it includes copyright release. (same photo shoot as above, but no frills)
*For Reception Coverage from your grand entrance through your first dance, cake cutting, toasts and tossing of the bouquet to your departure, nothing missed. Images included on your CD/DVD.
Please Add $650.
Prices are the same
Monday-Sunday.
HOLIDAYS and SUNRISE PLEASE add $100
Christmas Eve, Christmas, New Years Eve, New Year's Day, Thanksgiving, and Labor Day, Fourth of July.
---
Want photos of you getting ready in your Hotel Suite?
add preparation coverage at only $150

"Trash the dress" photo session $225
the morning after your ceremony
(see our
portrait packages
or for more info on our portrait packages)
PROFESSIONAL FAMILY PORTRAIT SESSIONS ON BEAUTIFUL COCOA BEACH ONLY $175
(USB CARD AND COPYRIGHT RELEASE ONLY)
To see our online portrait portfolio
click here
To see our trash the dress portfolio
click here
To se
e our boudoir portfolio, click here. You must call us @407-970-7314 to get password.

You may order prints and stretch canvas conveniently from your online photo gallery at modest prices.
We also have really cool photo gift items such as t-shirts, posters, puzzles
and coffee mugs, etc....so don't forget to check it out!
Video services on Cocoa Beach and surrounding area starting at: $375
We offer video of your wedding by Brian Dillon.
Here is an example of his work and it is "our wedding" on Cocoa Beach.
Both Dave and I did everything for our wedding including the fresh flowers (surprising)
Our long time friend Pastor Bergstresser from our local Church The
Resurrection of Lutheran
,
Cocoa Beach performed our Ceremony.
The music on this video is an original song by our songstress Lauren Lester.
Who wrote it for me as a wedding gift/surprise for my husband "turtle"
She will write one for you too...
---
Decorations
ala-carte

Travel fees may apply to your decorations, if no other services are purchased with your ala-carte package.
mix and match our decorations to come up with something unique.

---
two planters with mix of tropical silk arrangements $100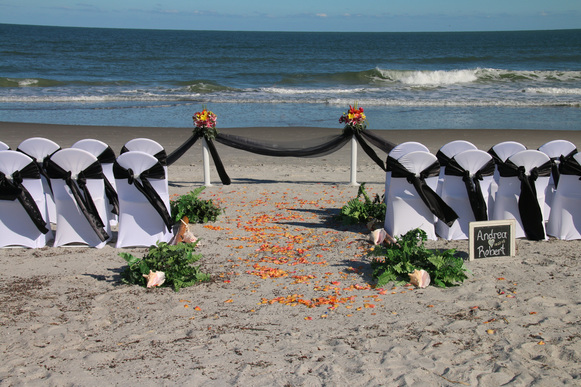 This is truly a very elegant decoration for the beach or anywhere.


starting at $250 with fresh arrangements.

---
---
Two planters with a mix of white silks ~ $100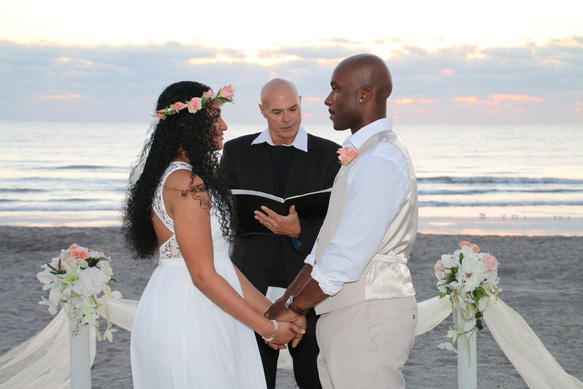 This looks elegant on the beach

starting at $250 for fresh arrangements.

---
---
Rose petal and palm trail $150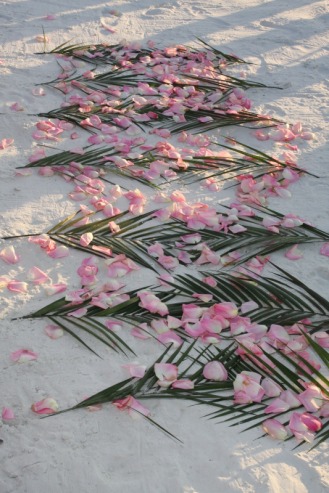 This aisle way has a unique and extremely beautiful texture and look to it. Add this to one of our decorations or use it by itself. You may choose one color of rose petals for this aisle way. This looks nice with the trinity of palms below.

---
---
Just marry us double hearts - petals $175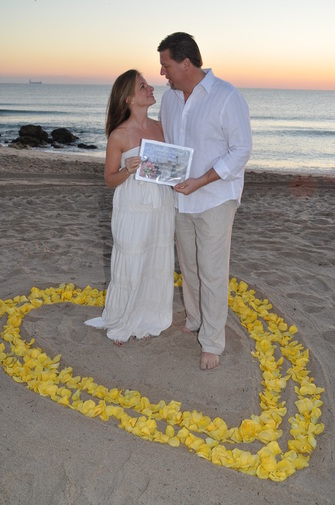 Who wouldn't love this exclusive double heart made from the petals of 50 fresh roses (you may choose up to two color of roses for this decoration)

---
---
Just marry us double wedding bands - petals $175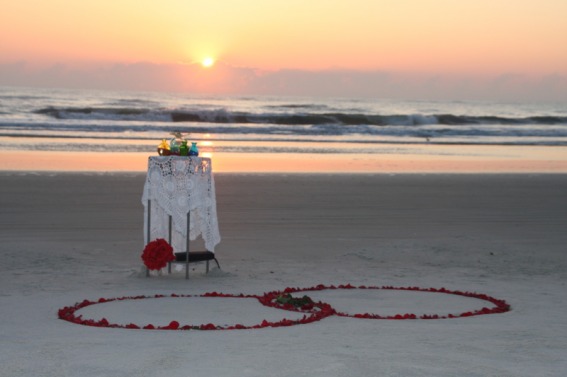 This is another one of our unique decorations, double wedding bands connected. You stand in one ring and he stands in the other, also made from the petals of 50 fresh roses (you may choose up to two colors of roses)

---
---
Two hearts make one - tropical hand picked silks $150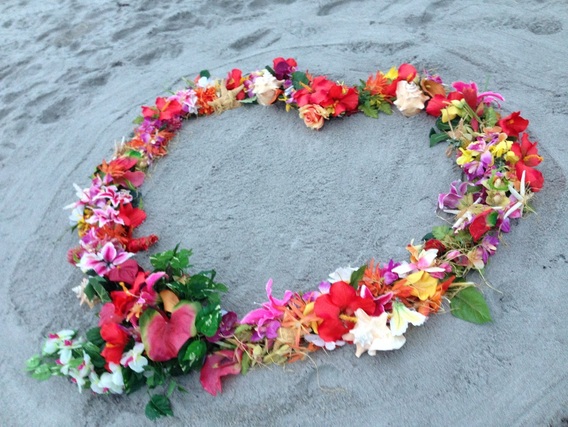 Bright beautiful exotic tropical silks form this large heart. Both of you will stand inside. Filled with choice of one color of fresh rose petals and adorned with conch shells, starfish and sand dollars.

---
---
Two hearts make one - white mix of hand picked silks $150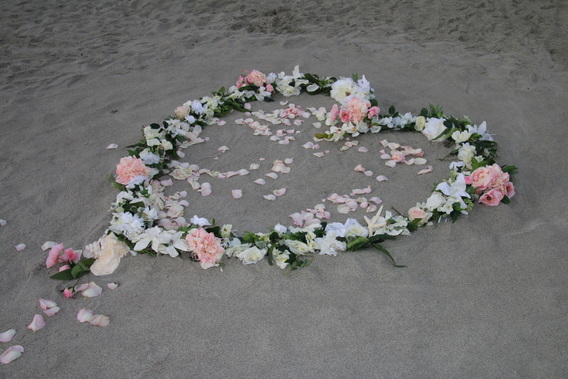 Elegant all white silks including gardenias, lillies, calla lillies, roses and magnolias and wisteria create this large white heart you will both stand inside and the heart will be filled with choice of one color of fresh rose petals and accent color of choice.(pictured here with soft pink accents and petals)

---
---
Two hearts make one - shell~a~bration $250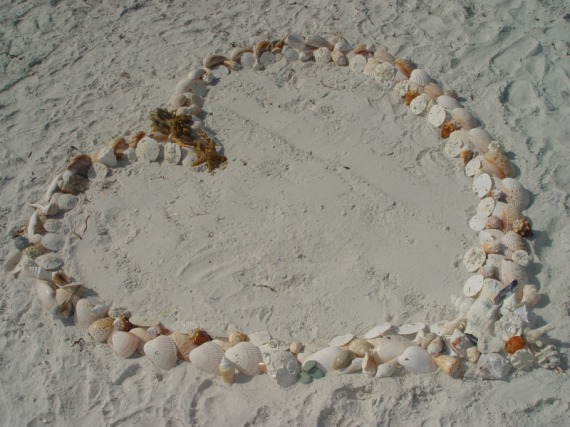 Our very own one of a kind Shell-a-bration heart. Loads of hand picked and preserved shells, conchs, starfish and beach related bounty. Large enough for you both to stand in and filled with choice of one color of fresh rose petals.

---
---
Island dreams bamboo arch ala-carte is $250 ~ or shown here as a package $500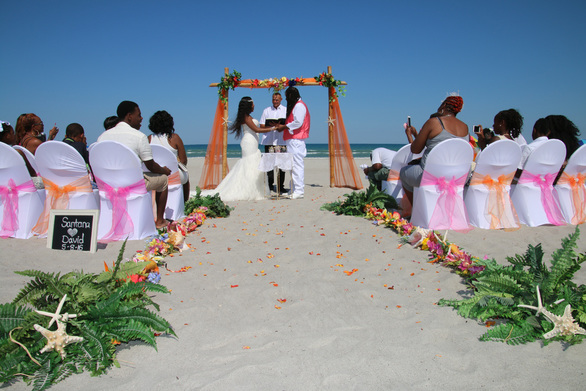 A beautiful hand picked and treated bamboo arch decorated with choice of fabric and exotic tropical mix of silk flowers with greenery, starfish, conchs and sand dollars.

(pictured here with 10 covered chairs and an aisle way, scattered petals and sand ceremony$500 for whole pkg)

---
---
Island dreams bamboo canopy - fabrics only $400 ala~carte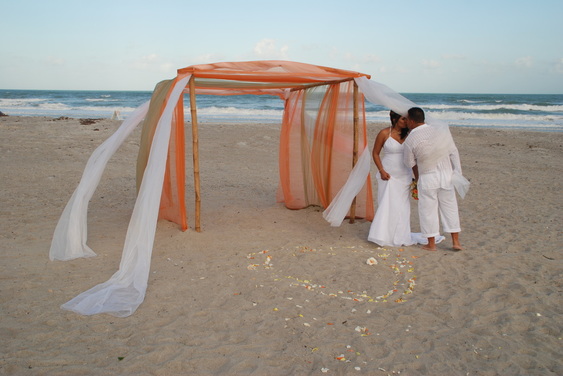 Our original Island Dreams hand cut and cured bamboo canopy decorated with choice of fabrics a clean, sexy and sophisticated look.

You may add chairs, aisle way, choice of heart in the sand.

---
---
Island dreams bamboo canopy - white silks and all natural burlap $400 ala~carte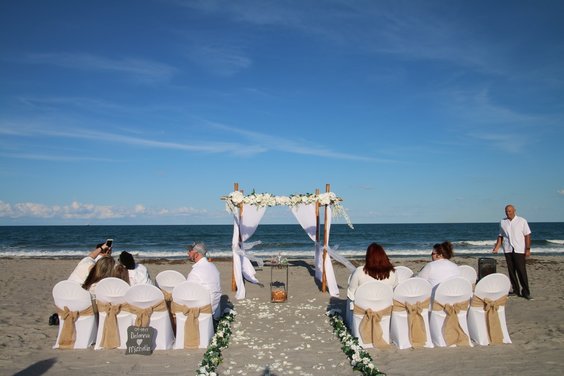 Our original Island Dreams hand cut and cured bamboo canopy decorated with our very own mix of white silks and burlap sashes. Comes with the white flowing chiffon fabric ~ala carte $400

(Pictured here with an aisle way with scattered petals $150 and covered chairs $10 each, sand unity table and supplies $50)

---
---
A 10' x 10' white beautiful pavilion tent, for back up and shade ~ $100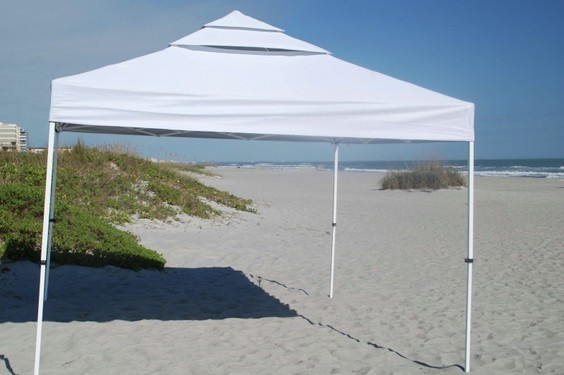 Great for small groups and threat of predicted undesirable weather, or just as shade for elderly or very young. Rental includes delivery, set-up and removal.

---
---
Folding chairs ~white $7.50 each naked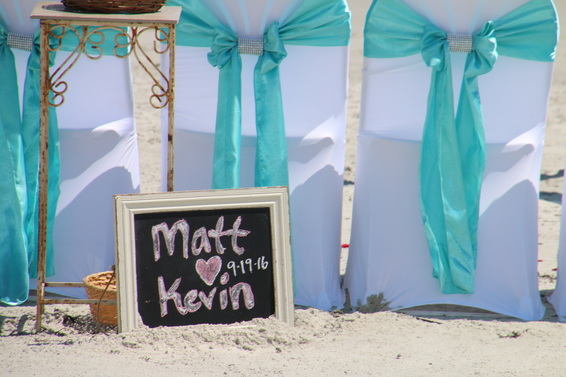 or fully dressed with covers and sash of choice for only $10 per chair.
Price includes delivery, set up and removal.

---
---
Flowers by
Bodacious Botanicals
of Destination Weddings of Florida, Inc.


Fresh rose bouquets $85 w/ a matching boutonniere $100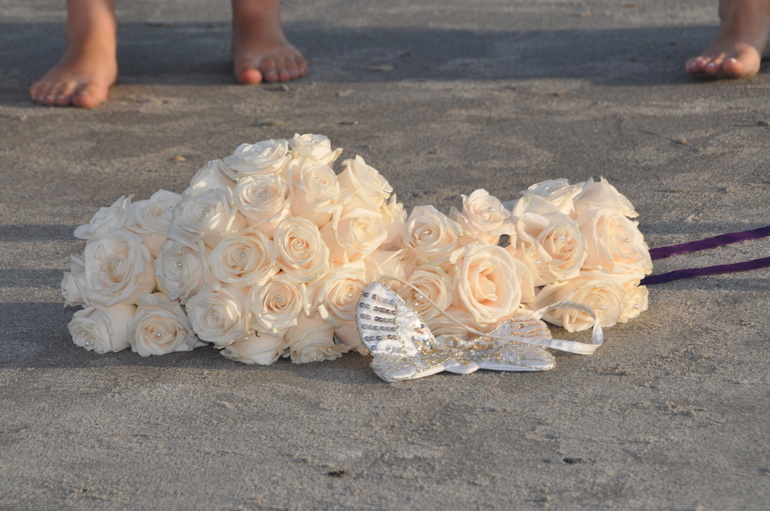 (with purchase of bridal bouquet )
$ 60 matching maid of honor bouquet
$ 50 matching bridesmaid bouquet
$ 35 matching jr. bridesmaid bouquet
$ 35 and up ~ matching table centerpieces
$ 35 tossing bouquet
$ 35 cake topper ~ matching all your wedding flowers
$150 and up ~ two arrangements for two pedestals or railings (fresh)
---
fresh tropical bridal bouquet - $85 w/matching boutonniere $100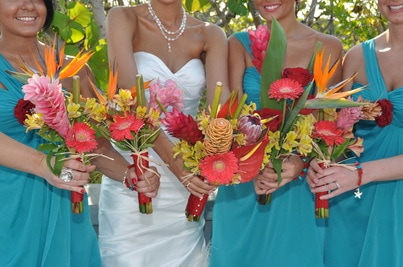 ---
(with purchase of bridal bouquet )
$ 60 matching maid of honor bouquet
$ 50 matching bridesmaid bouquet
$ 35 matching jr. bridesmaid bouquet
$ 35 and up ~ matching table centerpieces
$ 35 tossing bouquet
$ 35 cake topper ~ matching all your wedding flowers
$150 and up ~ two arrangements for two pedestals or railings (fresh)
---
Premium bridal bouquet ~ starting at $110 w/matching boutonniere $125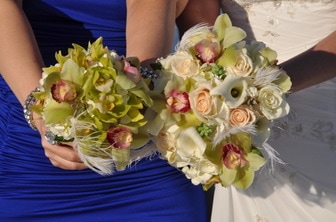 ---
Bridal Haku - fresh orchids $175 fresh mini roses or carnations (color choice) $125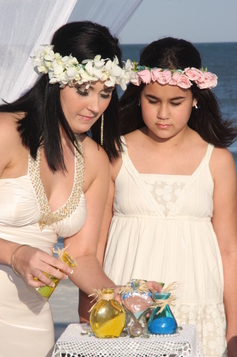 This is a beautiful alternative for beach weddings. Not only does it have the Hawaiian feel to it, but it is smells wonderful, it looks beautiful and it is functional on the beach because it also keep your hair out of your face and eyes. Remember, a veil as beautiful as they are can become a nuisance on the beach because even on the best beach days, it is quite windy. You have to be ready to deal with a veil constantly in your f ace or your groom's face. I highly recommend this beautiful alternative made from fresh orchids and or mini carnations, or mini roses. Perfect for your bridal party as well. They will love them too! All made from delicious smelling fresh flowers.

---
---
Corsage~ Our corsages are made fresh $30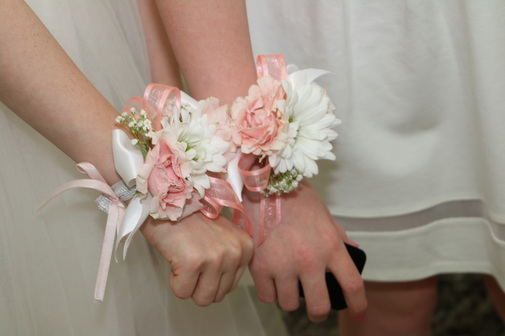 Our corsages are made fresh to order and to match your bouquets, boutonnieres and cake toppers. Perfect for mothers, grandmothers, and aunts. You may have a wrist corsage, or lapel. Of course you have choice of ribbon and flower color.

---
---
Boutonniere $15 each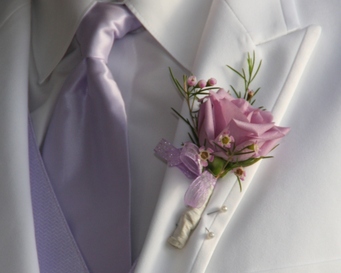 Our boutonnieres are made fresh to order and to match your bouquets, boutonnieres and cake toppers. These are perfect for the Groom, groomsmen, father's, grandfathers, and uncles. Of course you choice of ribbon and flower color.

---
---
Flower shower for up to 20 guests $100 for up to 30 guests $125, for up to 40 guests $150 more? can do!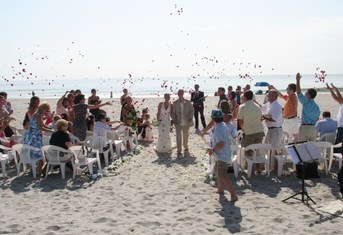 If you have never seen a flower shower, your missing out. This is fun and it is beautiful. Instead of rice or bird seed, which are not allowed on the beaches we use rose petals. As the couple makes their way back up the aisle, their guests shower them with petals individually packaged for each person.

---
---
Presentation rose $15 each

Aww a presentation Rose. Hand wrapped with satin ribbon and pearl pins. You may use them to hold your wedding bands (as pictured here) or you may present your mother's with a beautiful rose during the ceremony, to make them feel special, and to show you appreciate them.
You can also order single roses for all the lady guests at your wedding. They will appreciate having a flower to hold too. It's a nice touch. Ask us...Price varies with package. (How many and type of roses?)

---
ring pillow $35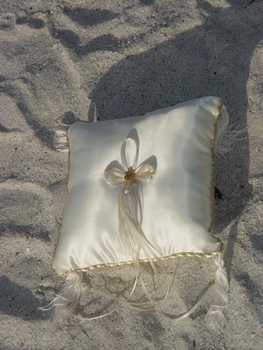 Satin ring pillow, star fish or 2 presentation roses for the ring bearer to present the rings at the ring

---
Petal filled flower girl basket $40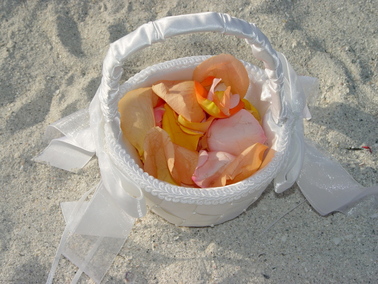 We will supply a flower girl basket filled with matching fresh petals, or seashells.

---
---
~ Park and Beach side min-receptions ~
For up to 10 guests only $200 or up to 20 guests $250, 30 guests $300
This exclusive beach side way to have your cake and eat it TOO comes with a engraved cake cutter/server, bride and groom unique toasting glasses for two. One bottle of champagne (for the bride and groom for later most beaches and parks prohibit alcohol) our very own refreshing surfside punch, a cooler full of water and plates, forks, wipes. A choice of delicious round cake decorated with either fresh flowers (to match your bouquet) A decorated table with a cloth table cloth.

Mini-Beach and Park side reception add ons or ala-carte mini-reception:
$25 Additional bottles of champagne
$30 Delicious and refreshing surfside punch (non-alcohol) for up to 20, $40 for up to 30 guests.
$40 Bottle of chilled champagne and two keepsake toasting flutes
$30 cooler of chilled waters for up to 20


---
~ Entertainment ~
Harp music by Victoria
Strolling romantic violin music John Henry
Island steel drum beats by Chesley
Violin and Guitar by Jeff and or a duo Jeff and J.J.
Acoustic guitar and vocals by Lauren
Ukulele
We are proud to say that we work with World class musicians!
For ceremony music up to an hour starting at $375 Day of the week~holiday~location will factor for our musicians!
---
~ Personalized wedding love song ~

Exclusively through Destination Weddings in Florida, Inc. Personalized wedding songs by the Songstress herself, Lauren Lester. She will interview you and write a song about your relationship and even record it to be played at your ceremony, or used for your wedding video or slide show presentation. Imagine, your very own love song. Starting at only $250 She can even come and perform it for you live at your ceremony. You tell us what you want!

To hear examples of original music from our songstress Lauren Lester
please click on the play button throughout the website.




For the best beautiful bridal hair and make up..... we have recommended for years www.cocoabeachspa.com They are located beachside and can accommodate your wedding party too! What a beautiful and peaceful location to get pampered before your wedding in style.

If you prefer, we also can have a hair and make up artist come to your hotel or our bridal room and do your hair and make up.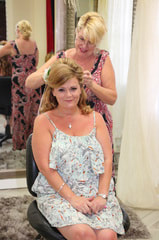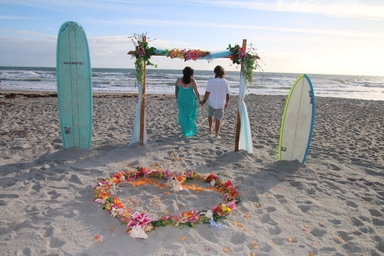 WE cater to SURFER's and SURFER wanna be's. ASK about our new SURFER Pkg complete with couple's lessons. After all...we are the East Coast Surfing Capital.

---
The required retainer for any package only is 1/3 of the total adding 7% Florida State Sales tax and is subject to availability.
Grateful for our customary gratuities.
You may apply here.

~~~~~~~~~~~~~~~~~~~~~~~~~~~~~~~~~~~~~~~~~~~~~~~~~~~~~~~~~~~~~~~~~~~~~~~~~~~
What you are is God's gift to you, What you make of yourself is your gift to God!
Live your best life.
~~~~~~~~~~~~~~~~~~~~~~~~~~~~~~~~~~~~~~~~~~~~~~~~~~~~~~~~~~~~~~~~~~~~~~~~~~~

We specialize in romantic and affordable destination and beach weddings at sunrise or sunset at an Orlando Park, or on any beach or lakefront.
Our weddings also include vow renewals, commitment and same sex ceremonies.
Our creative services include romantic wedding photography including coffee table books, video.
Beautiful decorations including canopies, arches, aisle ways and seating.
officiants and ceremony services and supplies such as sand and shell and rose ceremonies.
We are also proud of our beautiful fresh floral bouquets, hawaiian hakus, boutonnieres, centerpieces and corsages.
How about a beach or park side mini-reception with cake, champagne and finger food or a custom wedding song.