Florida Destination Weddings
COCOA BEACH WEDDINGS

"WE ARE THE WORLD FAMOUS"
SURFSIDE WEDDING CHAPEL

WEDDING VENUE COCOA BEACH

BOUDOIR BRIDAL ROOM
​GROOM CAVE
​
Your Florida Wedding Professionals
Providing Simply Romantic Weddings !
Call us today for your free quote
407-970-7314

WEDDING AND FAMILY BEACH
PORTRAITURE SPECIALIST
And all you need for your
BEACHSIDE I DO'S!

email us:
DestinationWeddingsinFlorida@gmail.com

You delight us and inspire us
with your love.
Everyone loves being in love.
Let's express it with what reflects you
and your authentic selves together on
your wedding day. You are the artist of
your own ceremony. Choose the services
you want here complete with images,
descriptions and investments
into your dream wedding here.

Please call us @407~970~7314

or email us and
we will prepare a easy to understand
and customized proposal for you.

EASY BREEZY! That's how WE ROLL!

ala-carte items here with
descriptions, images and prices and
listed by each category of service.

Please scroll all the way down
to see all of our services!

On this page and in the following order:
Officiant services
Photography
Video
Decorations
Flowers
Beach side mini-reception
Entertainment


Just marry us!

Officiant only services -
at our location.
we are proud to offer a back up
for weather or just if you prefer a pretty
indoor place for your ceremony.
Surfside Wedding Chapel is only 150
steps to one of the most picture perfect
beach access called Slater Way
(3rd Street North and A1A)
we are located in a quite section
of the City of Cocoa Beach.

$175 (Monday - Thursdays)

$225 Friday- Sunday)

We will travel outside of the Cocoa Beach
and surrounding beaches, just let us know if you prefer a different location.

ALL of Our Pro. Officiant svcs
include:
*Choice of ceremonies from our collection
of vows, poems, verses.
*Certification and return of your marriage
license to the appropriate county
for recording.
*Unlimited phone calls and emails, texts.
*Day of coordination of events and vendors.
*phone rehearsal
*keepsake copy of your ceremony
*keepsake marriage certificate

We also offer:
Day prior rehearsal, on location $175
Day of rehearsal earlier in the day $50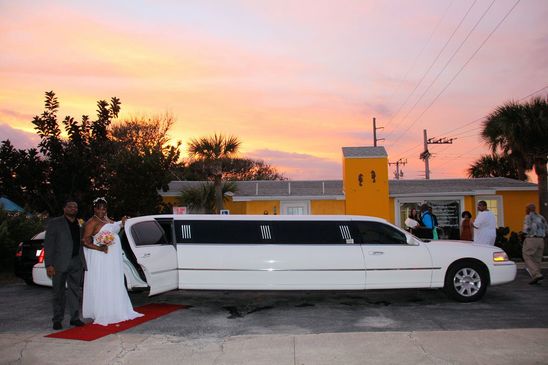 ---
Sand unity ceremony $50
Two life's become one in this beautiful keepsake
representation of your ceremony.
You may include children, or parents.
includes colored sand and individual bottles
and a heart shaped corked keepsake bottle.
Everyone takes turn pouring sand
creating a beautiful keepsake!

---
wishing shell ceremony $50 for up to 20 people
$75 for up to 50
Includes all the shells you need for your groupwith some to keep.
Right after the ceremony everyone walks to waters edge,
and makes a wish on the bride and groom to
keep secret until their first anniversary.
Couple make wish for each other,
on cue all the shells with the couple's names and dates
handwritten inside toss them in the ocean.
Paying it forward! Everyone enjoys this.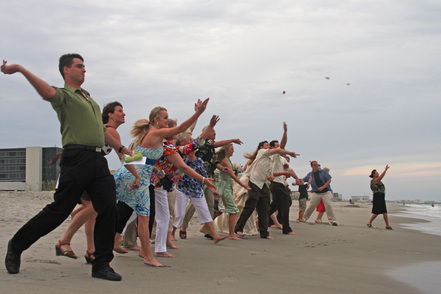 ---
our specialty...Photography
please see Sherri's slideshow portfolio below.
please note: every image throughout this site are Surfside Wedding Chapel weddings~ photography! Our business was built by our images!

~~~~~~~~~~~~~~~~~~~~~~~~~~~~~~
Make visible what, without you ,
might perhaps have never been seen.....
--Robert Bresson * a French film director
~~~~~~~~~~~~~~~~~~~~~~~~~~~~~~~~~~~~~~~~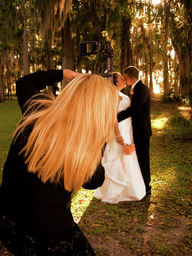 ---
Decorations ala-carte

Travel fees may apply to your decorations,
if no other services are purchased with your ala-carte package.
mix and match our decorations to come up with something unique.

This is a truly elegant and simple decoration for the beach or anywhere
two planters with mix of tropical silk arrangements ~ $100
*you may upgrade to fresh tropical for $250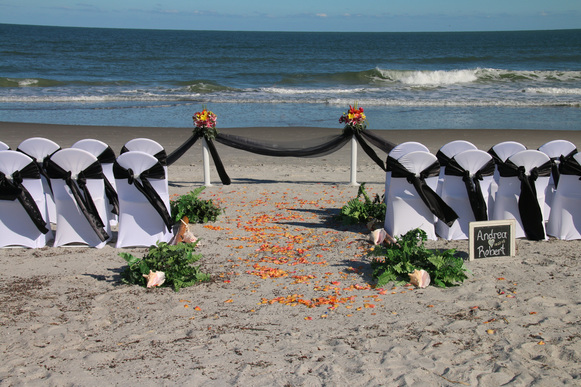 ---
This looks so elegant on the beach with these two planters with a mix of white silks ~ $100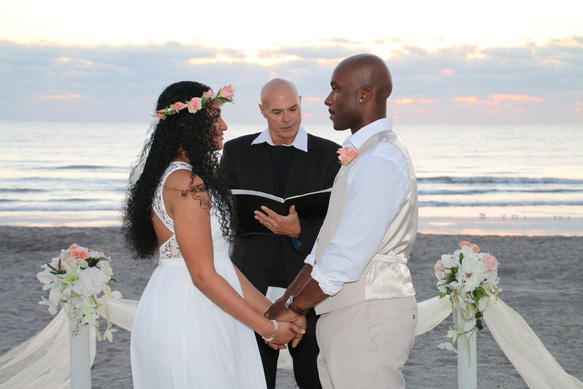 ---
This unique aisle way has beautiful texture, you may choose one color of fresh Rose petals, comes palm trail and starfish ~ $150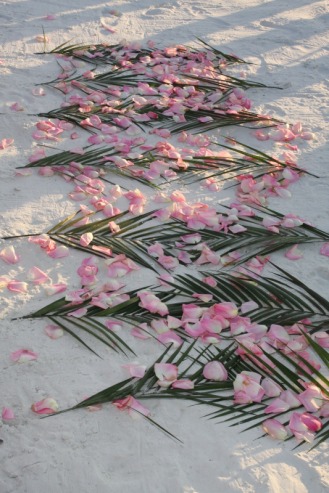 ---
Who wouldn't love our exclusive double heart made from the petals of fifty fresh roses? You may choose up to two colors. A simple, affordable and beautiful decoration. Just marry us double hearts - petals $150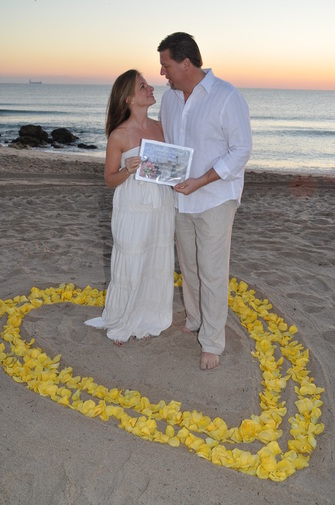 ---
This is another of our "own" decorations, double bands connected or an infinity symbol you both stand in.
Just marry us double wedding bands - petals $150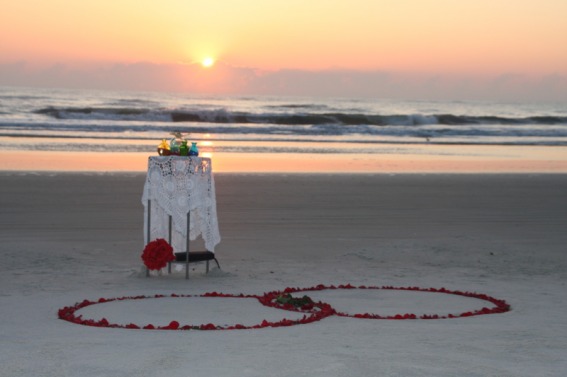 ---
Bright, exotic tropical silks creating a heart large enough for the two of you to be married in. Plenty of starfish, conchs and petals
tropical heart in the sand $150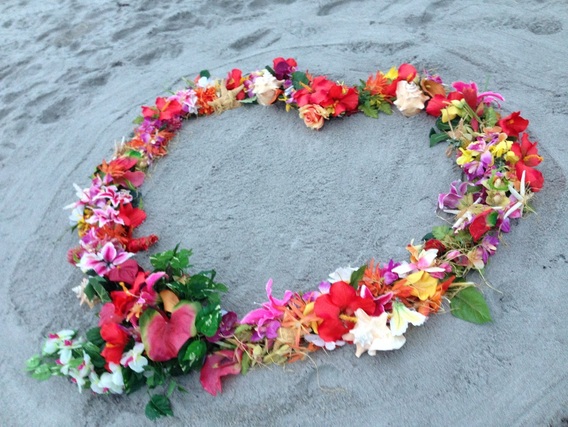 ---
Elegant all white silks Two hearts make one - white mix of hand picked silks $150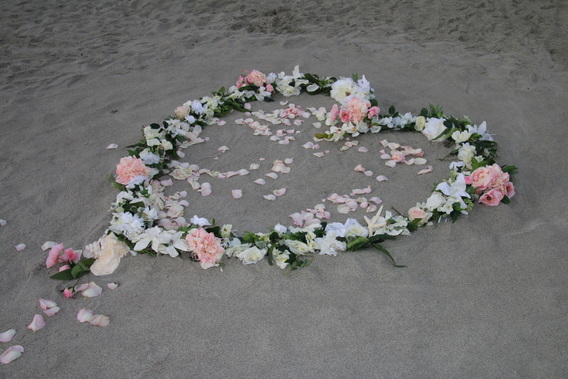 ---
Our very own one of a kind "shell-a-bration" heart. Large enough you both to be married in.
Choice of petals ~Shell-a-bration $250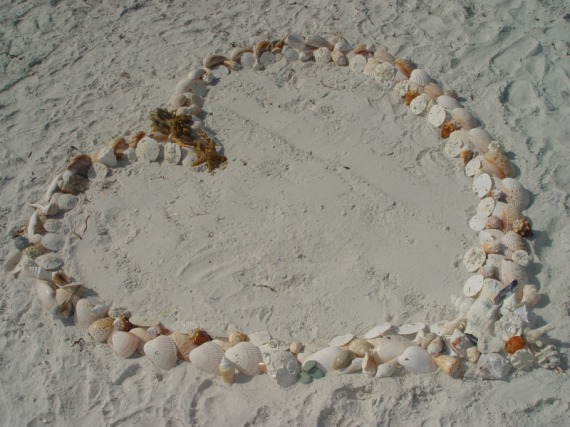 ---
A beautiful hand picked and treated bamboo arch decorated with choice of fabrics and exotic tropical mix. May upgrade to fresh flowers! (see a gallery of arch pics at bottom of pkg page)
Island dreams bamboo arch ala-carte is $250 ~ or
shown here as a package $500 Includes decorated arch, aisle way and 10 covered chairs. (sand ceremony and table is $50)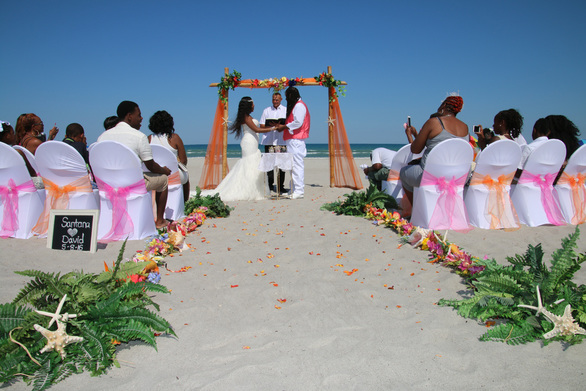 ---
Our original Island Dreams bamboo canopy decorated with all fabrics (see a gallery of canopy pics at bottom of pkg page)
Island dreams bamboo canopy - fabrics only $400 ala~carte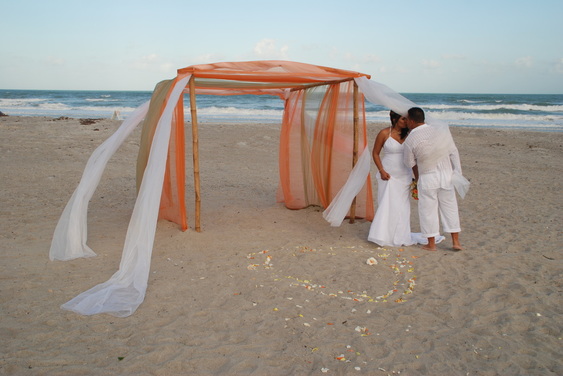 ---
Same as above with fabric and choice of silks (may upgrade to fresh) (see a gallery of canopy pics at bottom of pkg page)
Island dreams bamboo canopy - white silks and all natural burlap $400 ala~carte
for aisle way add $150, chairs $10 each covered and sand unity ceremony, table and supplies $50.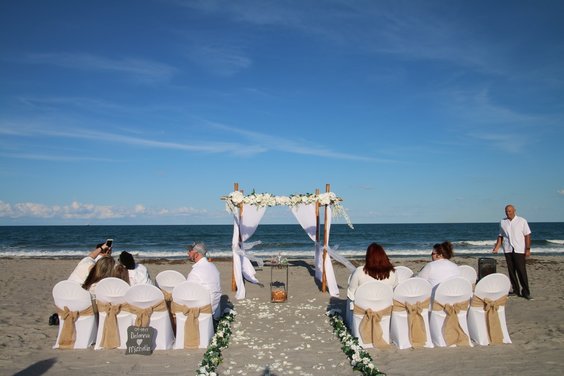 ---
A 10' x 10' tent, great for small groups, for shade. Rental includes delivery, set up and removal.
white beautiful pavilion tent ~ $100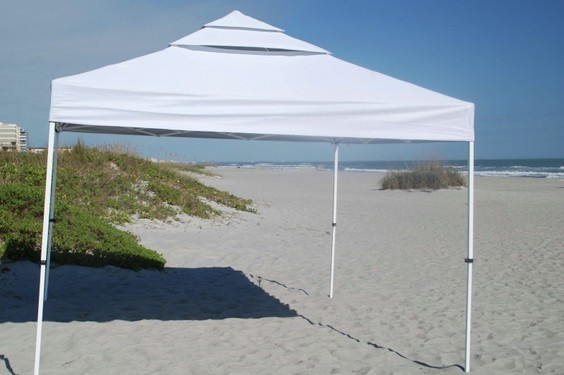 ---
fully dressed or naked includes, delivery, set up and removal
Folding chairs ~white $7.50 each naked or dressed $10 each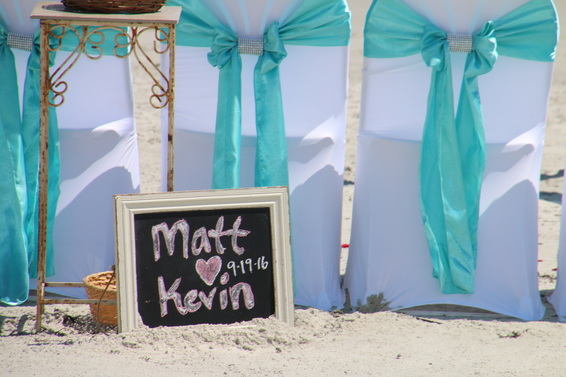 ---
Flowers by
Bodacious Botanicals
of Destination Weddings of Florida, Inc.
WE OFFER THE HIGHEST QUALITY FRESH
AND SILK WEDDING FLOWERS.
OUR FRESH FLOWERS ARE BOUNTIFUL AND BODACIOUS.
ARE YOU BORDING A CRUISE SHIP?
IF YOU WANT A BOUQUET THAT WILL LAST FOREVER,
WE WILL MAKE THEM IN SILK TO ORDER,
OR YOU MAY CHOOSE FROM OUR SELECTION ON SITE.


Fresh rose bouquets $85 w/ a matching boutonniere $100

fresh tropical bridal bouquet - $85 w/matching boutonniere $100
Premium bridal bouquet ~ starting at $110 w/matching boutonniere $125
This is a beautiful alternative for beach weddings, not only does it have a Hawaiian feel to it, but is also functional, keeping your hair out of your face! Handmade fresh!
Bridal Haku - fresh orchids $175 fresh mini roses or carnations (color choice) $125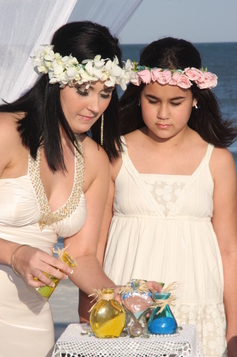 ---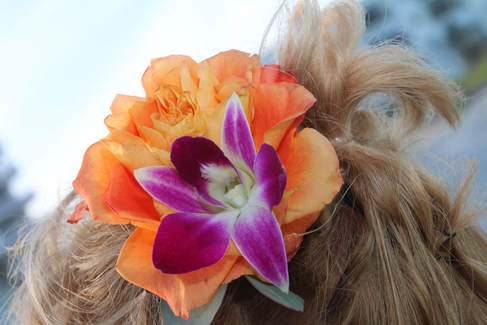 ---
our corsages are made fresh to order and to match the rest of your wedding flowers. Perfect for mothers, grandmothers, aunts and daughters. choice of wrist or pin on.
Corsage~ Our corsages are made fresh $35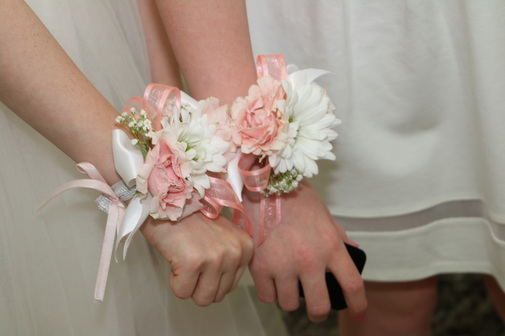 ---
Our boutonnieres are made fresh to order and to match the rest of your wedding flowers and are perfect for the Groom, groomsmen, father(s), grandfather(s), brother's and uncles.
Boutonniere $15 each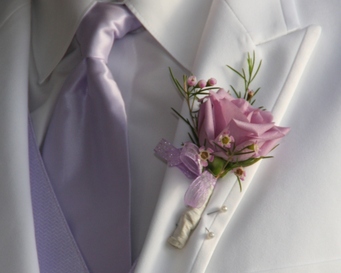 ---
If you have never seen a flower shower, your missing out. This is fun and beautiful! Instead of rice, confetti or bird seed (which are not permitted) all of your guest recieve a cone with fresh petals to sling at you.
Flower shower for up to 20 guests $100 for up to 30 guests $125, for up to 40 guests $150 more? can do!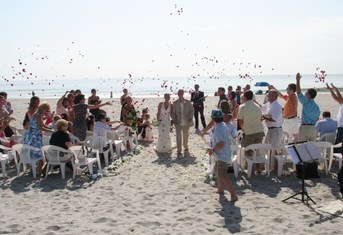 ---
Awweee.... presentation rose! Hand wrapped with satin ribbon, and pearl pins. You may use them to hold your wedding bands, or present them to parents during the ceremony. We also offer a rose ceremony for the bride and groom to present to each other. Very nice!
Presentation rose $15 each

---
Satin ring pillow for ring bearer to present the rings.
ring pillow $35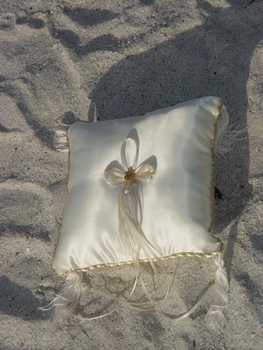 ---
We will supply a basket filled with fresh petals or seashells
flower girl basket $40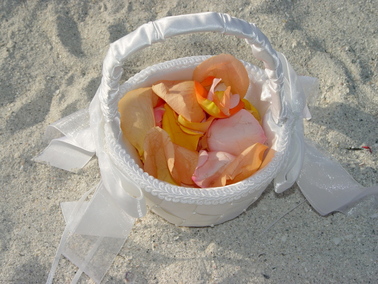 ---
~ Park and Beach side min-receptions ~
for up to 10 guests $225
for up to 20 guests $275
for up to 30 guests $325
This is an exclusive beach side way to have your cake and eat it too!

This mini reception comes with:

* "surfside wedding chapel" signature cake
*Cupcakes available TOO! OR you may have a fresh floral topper cake. (see images below)
* 2 (two) "tied the knot" Surfside Wedding Chapel
souvenir stem~less champagne flutes
*One bottle of barefoot bubbly Champagne
* Refreshing Surfside punch
*chilled waters
*set up table and a cloth table cloth
*forks, wipes, plates and a cutter to use.


~ Entertainment ~
Harp music by Victoria
Strolling romantic violin music John Henry
Island steel drum beats by Chesley
Violin and Guitar by Jeff and or a duo Jeff and J.J.
Acoustic guitar and vocals by Lauren
Ukulele
We are proud to say that we work with World class musicians!
For ceremony music up to an hour starting at $250
Day of the week~holiday~location will factor for our musicians!

~ Personalized wedding love song ~

Exclusively through Destination Weddings in Florida, Inc. Personalized wedding songs by the Songstress herself, Lauren Lester. She will interview you and write a song about your relationship and even record it to be played at your ceremony, or used for your wedding video or slide show presentation. Imagine, your very own love song. Starting at only $250 She can even come and perform it for you live at your ceremony. You tell us what you want!
To hear examples of original music from our songstress Lauren Lester
please click on the play button throughout the website.

WEDDING HAIR AND MAKE UP!

For the best beautiful bridal hair and make up..... we have recommended for years www.cocoabeachspa.com They are located beachside and can accommodate your wedding party too! What a beautiful and peaceful location to get pampered before your wedding in style.

If you prefer, we also can have a hair and make up artist come to your hotel or our bridal room and do your hair and make up.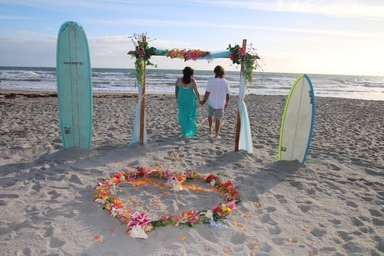 ---